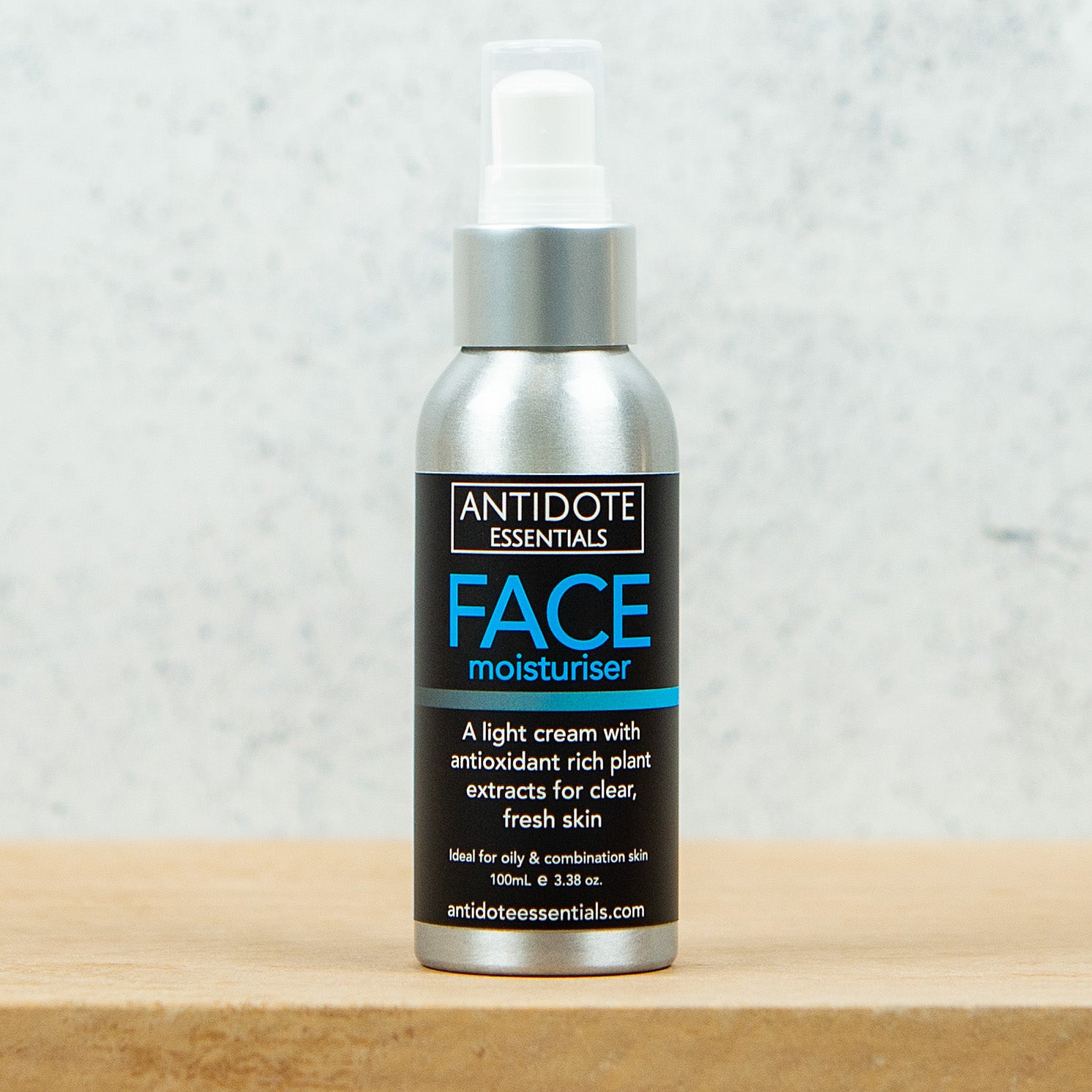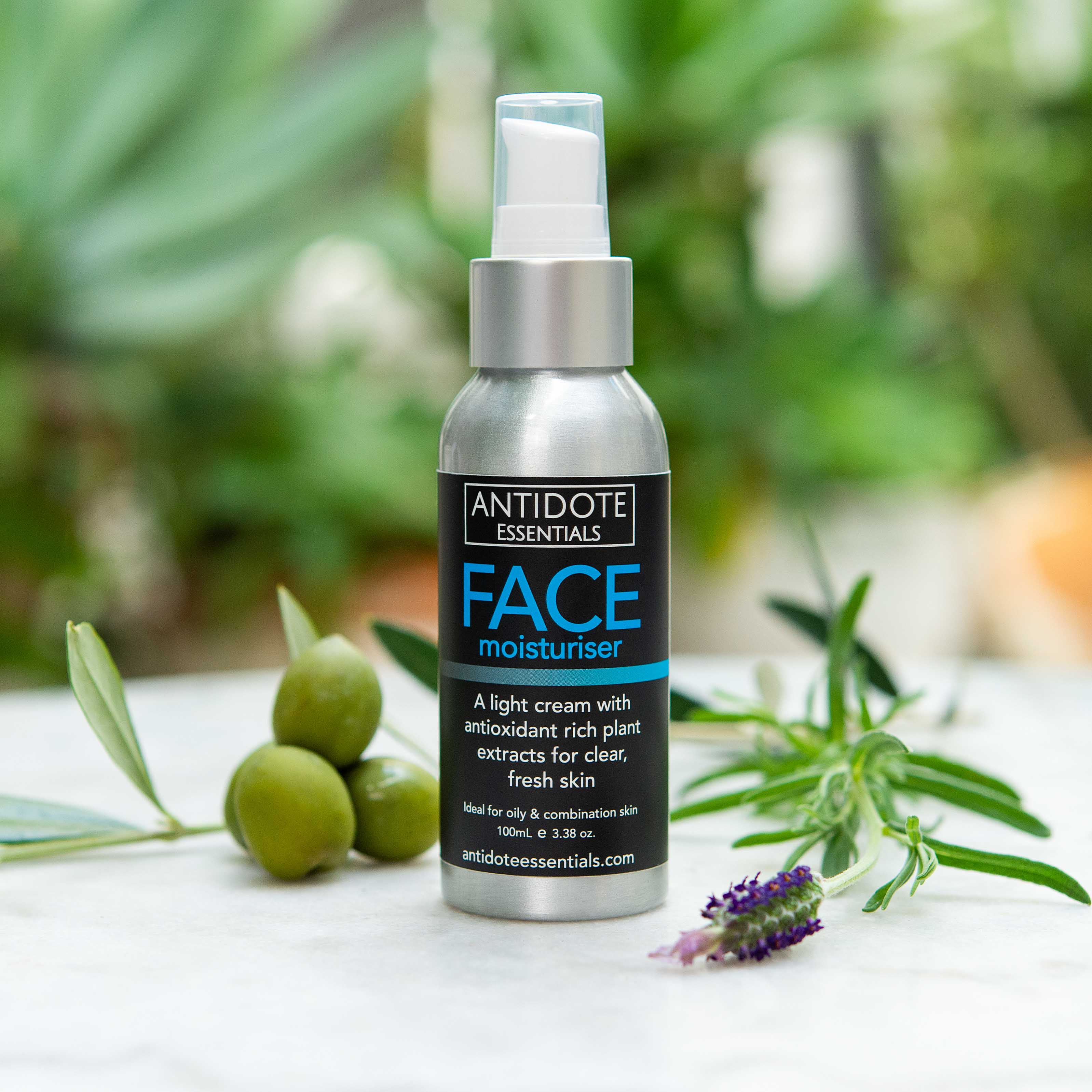 A light-weight, but hardworking moisturiser that nourishes, protects and balances all skin types​. This is our hero day moisturiser!
Enriched with potent antioxidants Olive Leaf and Grape Seed extracts with Vitamin E to restore and protect the skin. Aloe Vera, Rosehip and a remedial mix of pure Peppermint, Lavender and Rosemary essential oils nourish and balance the skin.
Those with oily / combination or acne prone skin will love how their skin feels clear and fresh all day - no more feeling oily.  Helps combat blemishes and breakouts - great for teenagers and adults alike. 

What does it do?:
​Keeps skin balanced and clear all day.
Refines pores.
Helps prevent blemishes and breakouts.
100% naturally derived ingredients to nourish and restore all skin types.
Antioxidant rich compounds to hydrate, protect and combat ageing.
​Vegan. No nasty chemicals. No parabens. No artificial colours. No artificial fragrances.
Hero Ingredients:
Apricot Kernel Oil - non-greasy, won't block pores, absorbs fast and assists to reduce inflammation
Aloe Vera - natural, light and non-greasy. Full of antioxidants and natural minerals. A great natural moisturiser, anti-bacterial and anti-inflammatory
Olive Leaf Extract – a powerful anti-ageing AND anti-blemish ingredient! Bursting with antioxidants to heal and stimulate cell regrowth
Grape Seed Extract – a potent antioxidant it helps to heal damage from free radicals and UV exposure
Natural Vitamin E – a potent antioxidant that assists to strengthen the skin and prevent damage from environmental stressors
Rosehip Oil - naturally packed with wrinkle-fighting compounds like fatty acids and vitamins A and C
Peppermint, Lavender and Rosemary Essential Oils – shown to tone and balance oils in the skin. Helps keep your skin clear and fresh all day
​How to Use:
​After cleansing, dispense 2 pumps to your fingertips and apply to entire face and neck. Follow with our EYE Intensive Cream or SERUM Eye Revive.
​What to Expect:
​Dispenses as lightweight cream as there are no pointless heavy waxes or fillers. A small amount goes a long way. A refreshing aroma of peppermint, lavender and rosemary leaves the skin feeling tingly. Soaks in completely - absolutely not greasy.
---
Free shipping on orders over $75
Ingredients
Ingredients - FACE Moisturiser
Purified Water, Vegetable Glycerine, Jojoba Oil*, Apricot Kernel Oil*, Aloe Barbadensis Cold Pressed Leaf Juice*, Olea Europaea (Olive Leaf Extract), Vitis Vinifera Seed Extract (Grape Seed Extract), Caprylic/Capric Triglyceride (from Coconut Oil), Natural Vitamin E, Cetearyl Alcohol (from Vegetable source), Rosehip Oil*, Vitamin B5,  Peppermint Premium Oil*, Lavender Oil*, Phenoxyethanol, Rosemary Premium Essential Oil, Evening Primrose Oil*, Stearic Acid (from Cacao Butter), Allantoin*  Carbomer, Ceteareth 20, Soya Bean Oil, Ethylhexylglycerin, Disodium Edetate, Sodium Hydroxy Methylgycinate, Grapefruit Seed Extract*, Sodium Hydroxide.
 *Denotes Organic Ingredients
Shipping
Fast shipping
FREE Aus shipping on all orders over $75.
Orders under $75, $9 flat shipping.
Express & International shipping available.
All orders dispatched within 48 hours on business days
Order tracking
Once your order is dispatched, you will receive a confirmation email - including a Tracking Link to trace your parcel's progress.
Get in touch
If you have any queries about our products or your order, contact us via email - info@antidoteessentials.com or via the Chat Widget on our website
Returns & Refunds
Antidote Essentials Pty Ltd handles returns and processes refunds in accordance with the Australian Consumer Protection legislation.
Should you wish to return your order, please notify us within 14 days of purchase with a valid reason for return. If we are unable to resolve your complaint or further assist you, we will process a refund upon timely receipt of the goods purchased. Unopened goods will be refunded in full. Our shipping cost will be deducted from the refund. Refunds will be processed promptly and payment made by the same method that you made payment. All refunds are made at the discretion of Antidote Essentials Pty Ltd.
Skin superfood not just ordinary Facial moisturiser
I am absolutely totally in love with the feeling and effects of this luxurious tantalising morning moisture ritual.
My face eagerly awaits the moment I apply the, what I can only describe as, liquid silk to my face.. My skin sighs as I smooth such a minuscule amount upon it.
Within seconds, the warm tingle flushes my face, my skin calms, each pore gaining such suppleness, a moment of bliss that softens to a warm caring all day glow.
This is truly sensational, the blend is second to none. I applaud your team with momentous kudos . Such perfection. Such scientific prestige though humbly presented , the colours chosen reflect the magical essence and pure potency of the creme della creme of creams that's held within.
On those rare days where my morning moments don't come to fruition as I plan, all day I feel something missing , a craving that is only fulfilled when late in the afternoon, I , with disregard for the time, cleanse my face and apply those dollops of perfection to my skin, oh , how it refreshes soothes and nurtures the cranky creases in my brow , with light delicate pampering , my skin finds the path home… The way the sensations lull my skin , giving replenishment , a tender stoicism that rejuvenates my face., that now rejoices because it feels whole , centred, found again 🧘🏼‍♀️
Thank you for your creations. I am blessed to have stumbled upon your products, true to their name, they have become an essential part of my day, that I thoroughly enjoy!
Morning wakeup
I have never been a moisturiser type person, I have always hated the way they feel, but when I tried the sample of this, it was fantastic, it's not oily or greasy and it's such a refreshing smell that it feels like a big energy boost in the morning.
Barely there
Such a light moisturiser for daytime, it's not oily or heavy, leaves my face not only smelling amazing but feeling light and fresh!
Long term fan
I've been using this product for over a year now. I still love it for its light and non-oily texture. It smells and feels natural and most importantly works great on my combination skin. I use it mostly at night, preferring an SPF during the day
Great Start for the day
This beautiful light moisturizer is not oily, smells incredible. I do mix this with a little spf 15, combine and apply to my face leaving it the perfect base for applying makeup.