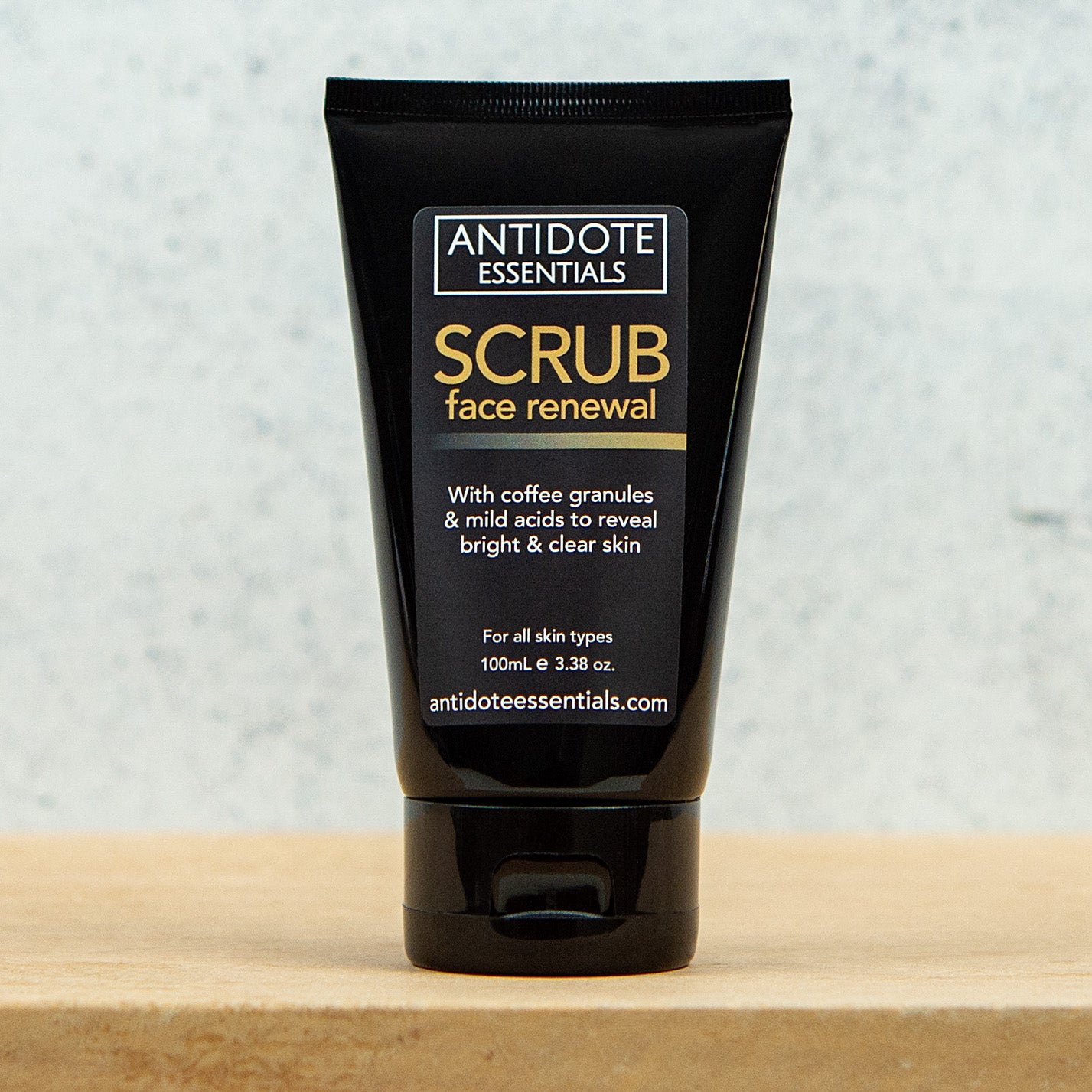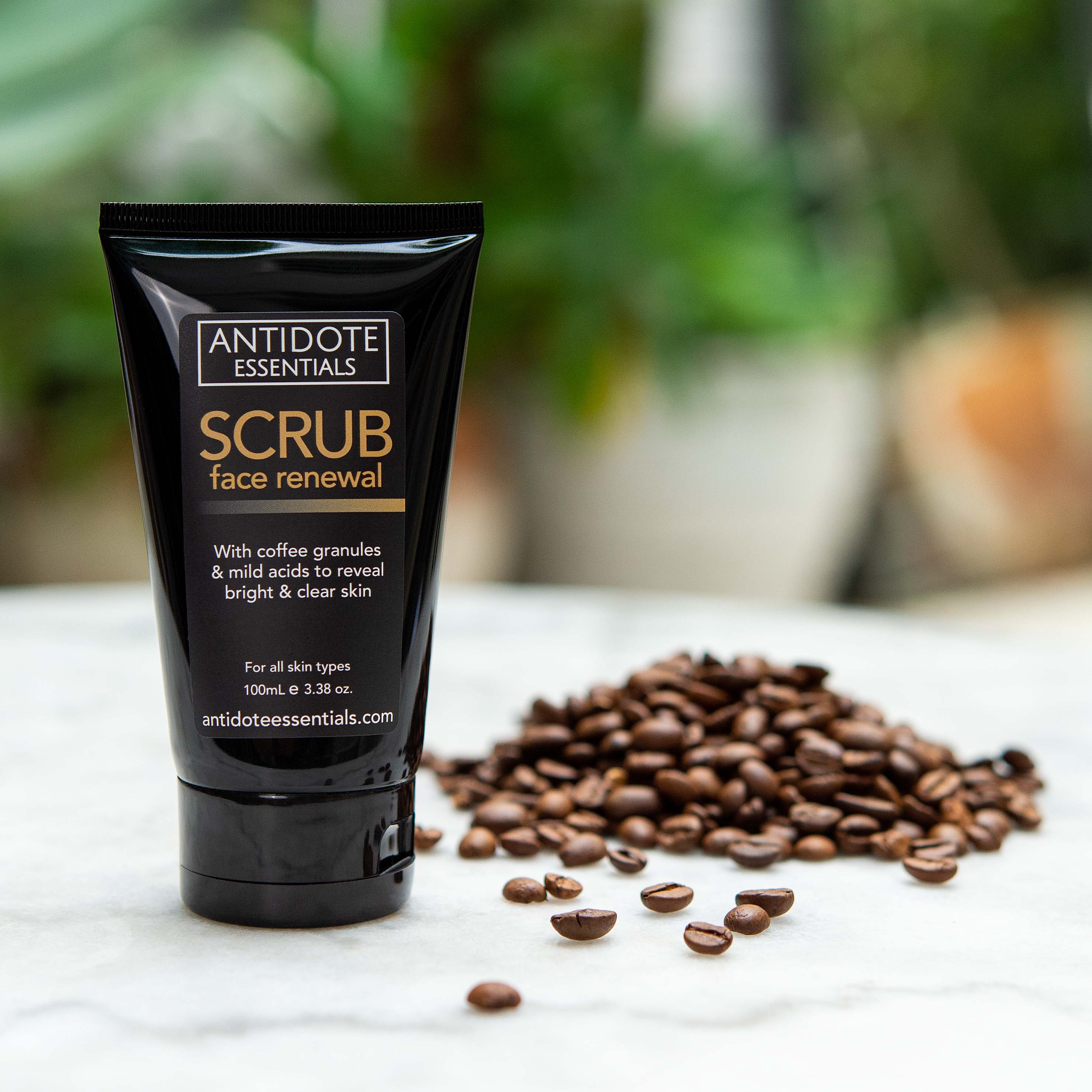 SCRUB Face Renewal (100mL)
A powerful, double-action exfoliant cream to reveal fresh and clear skin.
Our SCRUB Face Renewal uses a blend of natural exfoliating compounds and mild acids to remove dead skin cells and unblock pores. Fine Coffee, Tea Tree, Sandalwood and Jojoba granules act as a mechanical scrub to slough and smooth the skin surface. Combined with Lactic and Salicylic Acids that work as a gentle skin peel and replenishing oils, this scrub will revitalise all skin types.
Vegan. No nasty chemicals. No parabens. No artificial colours. No artificial fragrances.
Hero Ingredients:
Coffee Arabica Seed Powder, Sandalwood Powder and Tea Tree Powder - natural and effective exfoliating compounds that provide a fresh fragrance.
Kaolin Clay - to help draw impurities from the skin.
Natural Vitamin E - absorbs deep in to the skin to nourish and repair.
Lactic and Salicylic Acids - mild, yet effective acids that work to remove dead skin cells and reveal fresh clear skin. Also assist to reduce acne and blemishes.
Apricot Kernel Oil - to soothe and nourish the skin 
How to use:

After cleansing, apply a small amount with your fingertips over the entire face and neck in a gentle circular motion. Avoid the sensitive eye area. Leave on for up to 3-5 minutes (depending on your skin sensitivity) to allow the acids to work. Rinse completely with warm water. Follow with your choice of serum, moisturiser and eye treatment.  Use 1-2 times per week and we recommend to use at night.
What to expect:
A rich cream with a high concentration of exfoliating granules that you feel immediately on your skin. Once rinsed off your skin will feel thoroughly clean and refreshed. Some mild and temporary redness may occur straight after use.
---
Free shipping on orders over $75
SCRUB Face Renewal (100mL)
Ingredients
Ingredients - SCRUB Face Renewal
Purified Water, Cetearyl Alcohol, Apricot Kernel Oil, Coffee Arabica Seed Powder, Kaolin Clay, Shea Butter, Sandalwood Powder, Tea Tree Powder, Ceteareth 20, Jojoba Oil, Avocado Oil, Vitis Vinifera Seed Extract (Grape Seed Extract), Olea Europaea (Olive Leaf Extract), Phenoxyethanol, Xanthan Gum, Hydrogenated Jojoba Oil, Lactic Acid, Salicylic Acid, Natural Vitamin E, Cedarwood Essential Oil, Cypress Australian Blue Oil, Olive Oil, Potassium Sorbate, Rosalina Oil, Lavender Oil, Vitamin A Palmitate, Glycerine, Ethylhexylglycerin, Soya Bean oil, Lilly pilly Extract, Aloe Vera Leaf Juice Powder, Tagetes Erecta Flower Extract, Kakadu Plum Extract, Citric Acid, Sodium Benzoate, Quandong Extract, Calendula Officinalis Flower Extract.
Shipping
Fast shipping
FREE Aus shipping on all orders over $75.
Orders under $75, $9 flat shipping.
Express & International shipping available.
All orders dispatched within 48 hours on business days
Order tracking
Once your order is dispatched, you will receive a confirmation email - including a Tracking Link to trace your parcel's progress.
Get in touch
If you have any queries about our products or your order, contact us via email - info@antidoteessentials.com or via the Chat Widget on our website
Returns & Refunds
Antidote Essentials Pty Ltd handles returns and processes refunds in accordance with the Australian Consumer Protection legislation.
Should you wish to return your order, please notify us within 14 days of purchase with a valid reason for return. If we are unable to resolve your complaint or further assist you, we will process a refund upon timely receipt of the goods purchased. Unopened goods will be refunded in full. Our shipping cost will be deducted from the refund. Refunds will be processed promptly and payment made by the same method that you made payment. All refunds are made at the discretion of Antidote Essentials Pty Ltd.
Awesome product
I have been using this scrub 2 or 3 times a week, in conjunction with the charcoal wash and my face just glows. Even better is the great coffee scent!! Love every product I have purchased and now my Mum loves it also.
Amazing!
Tried this for the first time last night and it was so good!! My face felt so soft & clean afterwards. Even during the night when I'd wake up & rub my eyes (thanks baby that wakes every 2 hours!), I'd give my face a feel and think "oh it's so soft", haha!
Best Scrub on the Market
This is the best scrub I have ever used. After just a few days' use, I can see my skin getting clearer and looking healthier. Just love this product.
OMG love it
WOW, how good is this scrub, leaves my skin feeling so soft, clean and fresh. Love it heaps. Thank you
One of my fav products!
This scrub is so easy to use! Great consistency and the smell is sooooo good. I use it with my cloner before and the pure detox serum afterwards. Love it!