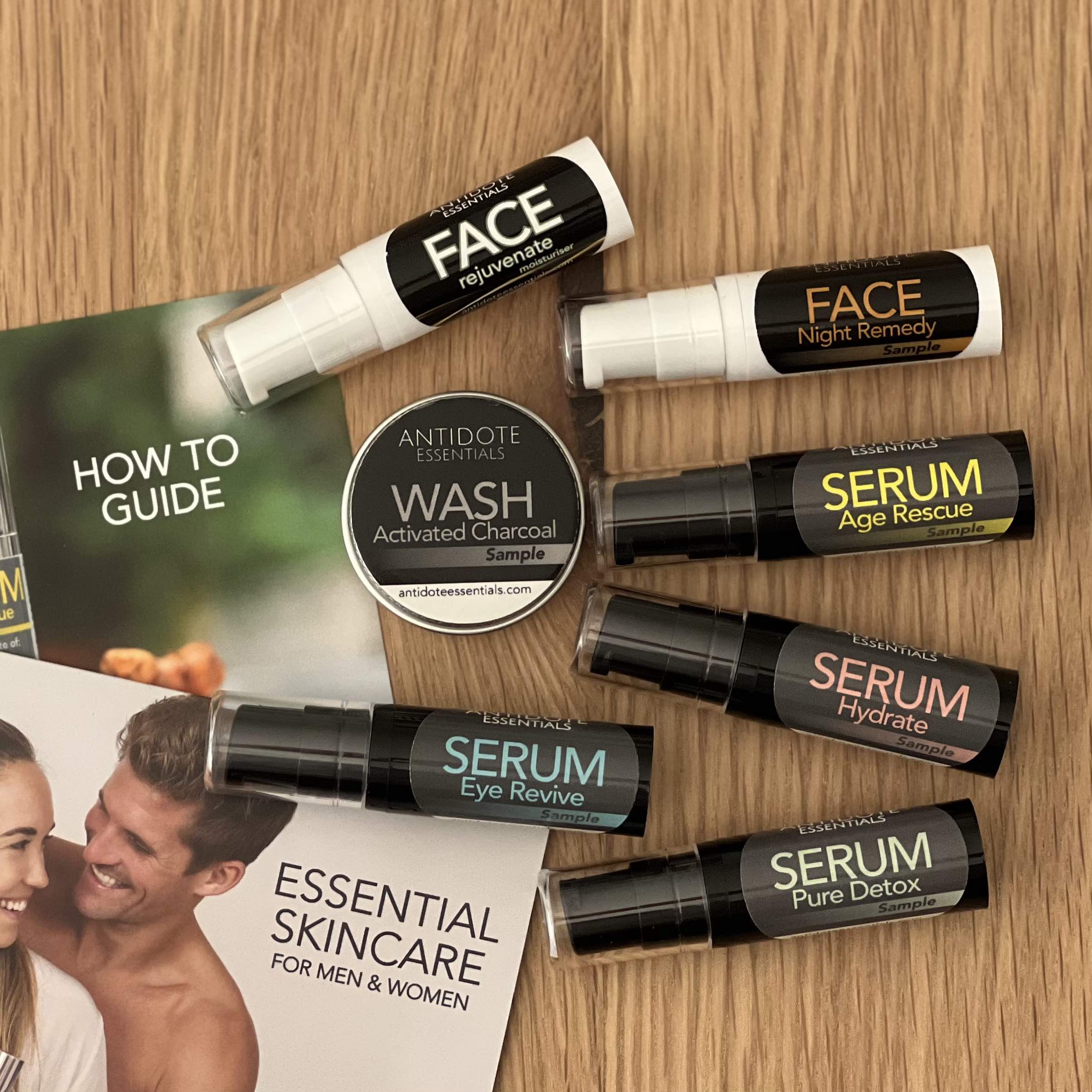 Limit 1 per new customers & households only.
Includes our brand-new FACE Rejuvenate moisturiser.
The most generous anti-ageing skincare trial pack on the market!  Join over 10,000 customers who started with our trial pack (no subscription required).  Experience what a difference our potent, therapeutic, active ingredients can make.  We focus on anti-ageing and overall skin health.   
What To Expect:
potent active ingredients 

reduce fine lines, redness, signs of ageing with our SERUM age rescue  

balance oils in your skin with our WASH activated charcoal
reduce dark circles and puffiness with our SERUM eye revive 
healthier skin with our SERUM pure detox 
serums and moisturisers will last for up to 2-3 weeks use 

natural fragrances, ranging from fresh & uplifting (eucalyptus, neroli & citrus) to herbaceous, warm & spicy (lavender, vetiver)

suitable for most skin types; ageing, combination, dry or blemish-prone

Australian made and cruelty free
Minimum cost of $10 all up (made up of the $1 trial pack and $9 shipping). 
What You Get:

With Optional Add-On (for new customers):
Need a nourishing eye treatment? Want to try some of our other products too?  We have full size optional add-ons for a special intro price. Just click the tick boxes at the bottom of this page.
About SERUM Age Rescue:
Our best selling product and for good reason. A potent concentration of Vitamins C & E, Hyaluronic Acid, CoEnzyme Q10, Carrot Seed, Grape Seed & Turmeric Oils for an immediate firming & tightening effect. 
About SERUM Pure Detox:
An all-in one treatment for healthy glowing skin. A purifying treatment to remove and protect from toxins, dirt and excess oils for a healthy glow. 
About SERUM Eye Revive:
A brilliant blue gel to brighten tired eyes. With copper gluconate, vit C & E, coffee and pomegranate seed oils to reduce dark circles, puffiness and fine lines. 
About SERUM Hydrate:
Restore skin's lost moisture while improving elasticity, fine lines and overall complexion. Absorbs instantly.  
Learn more about our serums here  
About WASH Activated Charcoal:
For all skin types; a rich combination of activated charcoal to draw out impurities, combined with a blend of pure essential oils that won't strip or dry out your skin. 
About FACE Night Remedy:
A deeply nourishing cream bursting with vitamins, antioxidants and Australian botanicals.  Also high in topical Vitamin C, rich in vitamin E, aloe vera, turmeric essential oil and olive leaf and grape seed extracts (both powerful antioxidants).
About FACE Rejuvenate:
An anti-ageing, non-fragrant moisturiser designed to nourish and hydrate your skin with some of the most potent ingredients available.

Who is this suited to? 
See our 'Your skin type' section for the recommended products. 
Our formulas are concentrated with active, potent ingredients so they deliver real results within days. Our ingredients set us apart, with therapeutic properties for ageing, blemishes, pollution, redness and dull skin. See our ingredients here.
For new customers only.  One-off purchase with no on-going commitment.
---
Free shipping on orders over $75
Ingredients
Ingredients - Trial Pack
Please refer to individual product pages for full ingredients list
Shipping
Fast shipping
FREE Aus shipping on all orders over $75.
Orders under $75, $9 flat shipping.
Express & International shipping available.
All orders dispatched within 48 hours on business days
Order tracking
Once your order is dispatched, you will receive a confirmation email - including a Tracking Link to trace your parcel's progress.
Get in touch
If you have any queries about our products or your order, contact us via email - info@antidoteessentials.com or via the Chat Widget on our website
Returns & Refunds
Antidote Essentials Pty Ltd handles returns and processes refunds in accordance with the Australian Consumer Protection legislation.
Should you wish to return your order, please notify us within 14 days of purchase with a valid reason for return. If we are unable to resolve your complaint or further assist you, we will process a refund upon timely receipt of the goods purchased. Unopened goods will be refunded in full. Our shipping cost will be deducted from the refund. Refunds will be processed promptly and payment made by the same method that you made payment. All refunds are made at the discretion of Antidote Essentials Pty Ltd.
Sample pack
I loved every single sample provided. Both the smell and the feel on my skin. Even the little bag that came with them was perfect for our cruise. I will certainly be swapping my skincare to Antidote Essentials as my current items run out!
Great Value
Fast shipping. Great value. It'll take a while testing all the different products...
Excellent trial pack
I bought this excellent value set to test the combinations and are so happy i bought it. I loved all the products and bought them in the bigger sizes. They make me skin fresh plump and very hydrated. Im 50 and being using for 6months and love these products. They are natural dont clog your skin and add hydration. Highly recommended these products!
Amazing trial pack
I was on the hunt for a new skincare routine and I came across Antidote Essentials. What can I say other than my skin and I love it! The products feel great, smell beautifully and my skin is already looking better. I just ordered my first of their great value packs. Get the trial pack and see for yourself!
Fabulous
Purchased the trial pack after seeing it on socials and reading reviews. I figured if they are offering this trial pack for only $10 delivered they must have faith in their product. I wasn't disappointed, my skin feels great, the products absorb into your skin, don't feel like they just sit on the surface. Have now purchased full size range. Very happy 😃