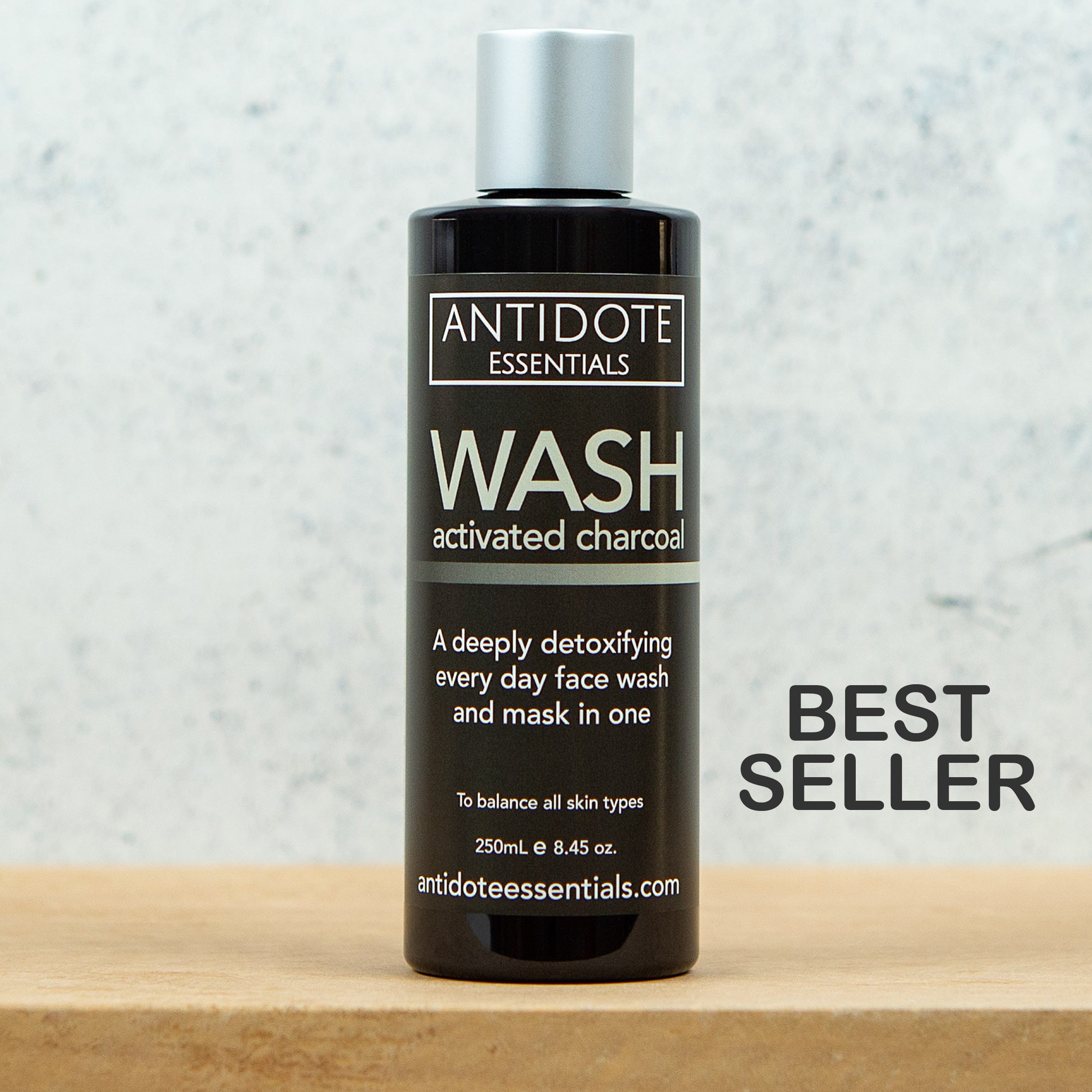 WASH Activated Charcoal (250mL)
The ultimate daily face wash.
A potent cleanser without harsh chemical detergents. With a high concentration of pure activated charcoal to draw out dirt, impurities and excess oils deep in the skin. Nourishing plant oils help bring oiler skin in to balance while also nourishing dry skin.
100% naturally derived ingredients. Citrus, Ylang Ylang and Tea Tree essential oils assist to cleanse, balance most skin types, particularly those with problem or acne-prone skin.  Sweet Almond oil and Lavender essential oil add moisture to dry and combination skin.  
Vegan. No parabens. No artificial colours. No artificial fragrances.
Suitable for most skin types - dry, oily, combination and problem skin. 
Hero Ingredients:
Pure Activated Charcoal  - The best all-natural pore cleansing and detoxifying active around! Draws out dirt, excess oil and toxins, deep in the skin without the need of harsh chemicals.
Sweet Almond Oil - Calms and nourishes the skin without making it greasy. Helps to bring balance to dry and oily skin.
Tea Tree Oil - A potent natural antiseptic and antibacterial. Assists to treat blemishes and irritated skin.
What To Expect:
This is not like your average cleanser.  A rich silver-black cream with aromas of lavender, ylang yang and citrus. Whether your skin is oily or dry, it will feel like it's balanced and moisturised. Those with problem or acne-prone skin have noticed a clearer complexion. Quantity will last around 2 months with regular daily use.
How To Use:
To use as a wash - Apply to wet face and neck and massage well. Leave for a few minutes then rinse.
To use as a mask - Apply to your dry face and leave on for 5-10 minutes. Rinse well with warm water. 
Follow with our SERUM Age Rescue, Face Moisturiser or FACE Night Remedy and EYE Intensive Cream. Use night and day.
---
Free shipping on orders over $75
WASH Activated Charcoal (250mL)
Ingredients
Ingredients - WASH Activated Charcoal
Purified Water, 100% Virgin Coconut Shell Activated Charcoal Powder, Cetearyl Alcohol, Mono-Diglyceride, Almond Sweet Virgin Oil, Stearic Acid, Glycerine, Caprylic/Capric Triglyceride, Lemon Essential Oil, Lavender Essential Oil, Rosemary Premium Essential Oil, Tea Tree Essential Oil,  Grapefruit Pink Essential Oil, Bergamot Essential Oil, Ylang Ylang Essential Oil, Decyl Glucoside, Phenoxyethanol, Ceteareth 20, Caprylyl Glycol, Caprylyl/Capryl Glucoside, Carbomer, Cocoamidopropyl Betaine, Sodium Lauroamphoacetate, Sodium Chloride.
Shipping
Fast shipping
FREE Aus shipping on all orders over $75.
Orders under $75, $9 flat shipping.
Express & International shipping available.
All orders dispatched within 48 hours on business days
Order tracking
Once your order is dispatched, you will receive a confirmation email - including a Tracking Link to trace your parcel's progress.
Get in touch
If you have any queries about our products or your order, contact us via email - info@antidoteessentials.com or via the Chat Widget on our website
Returns & Refunds
Antidote Essentials Pty Ltd handles returns and processes refunds in accordance with the Australian Consumer Protection legislation.
Should you wish to return your order, please notify us within 14 days of purchase with a valid reason for return. If we are unable to resolve your complaint or further assist you, we will process a refund upon timely receipt of the goods purchased. Unopened goods will be refunded in full. Our shipping cost will be deducted from the refund. Refunds will be processed promptly and payment made by the same method that you made payment. All refunds are made at the discretion of Antidote Essentials Pty Ltd.
Excellent daily wash
As soon as this is washed off I can feel its tightening and cleaning effects on my skin. Its easy to apply, very kind and prepares my skin to be nourished with Antidote essential serums. My son uses this for his acne and has reduced his breakouts and dried out his acne. Truly awesome cleanser :-)
Best cleanser I have used
Have purchased this four times. Amazing daily face cleanser and can be used as a face mask. Seems to even out skin tone with regular use.
Fresh skin!
Love using the activated charcoal wash. I've used it as a mask too. My skin has that fresh feeling. I've got hormonal adult acne so this is perfect. Great product!
I love this
I have combination skin. This cleanser is such a good value for money. It deep cleanses my skin without drying in the mornings. Better than most on the shelf charcoal cleansers I have tried.
Great for teenage skin
My 16 year old son loves using this. He just ran out and asked me to buy 3 more so we have spares. His skin is so fresh and almost acne free. I wish I had this product for my older kids.