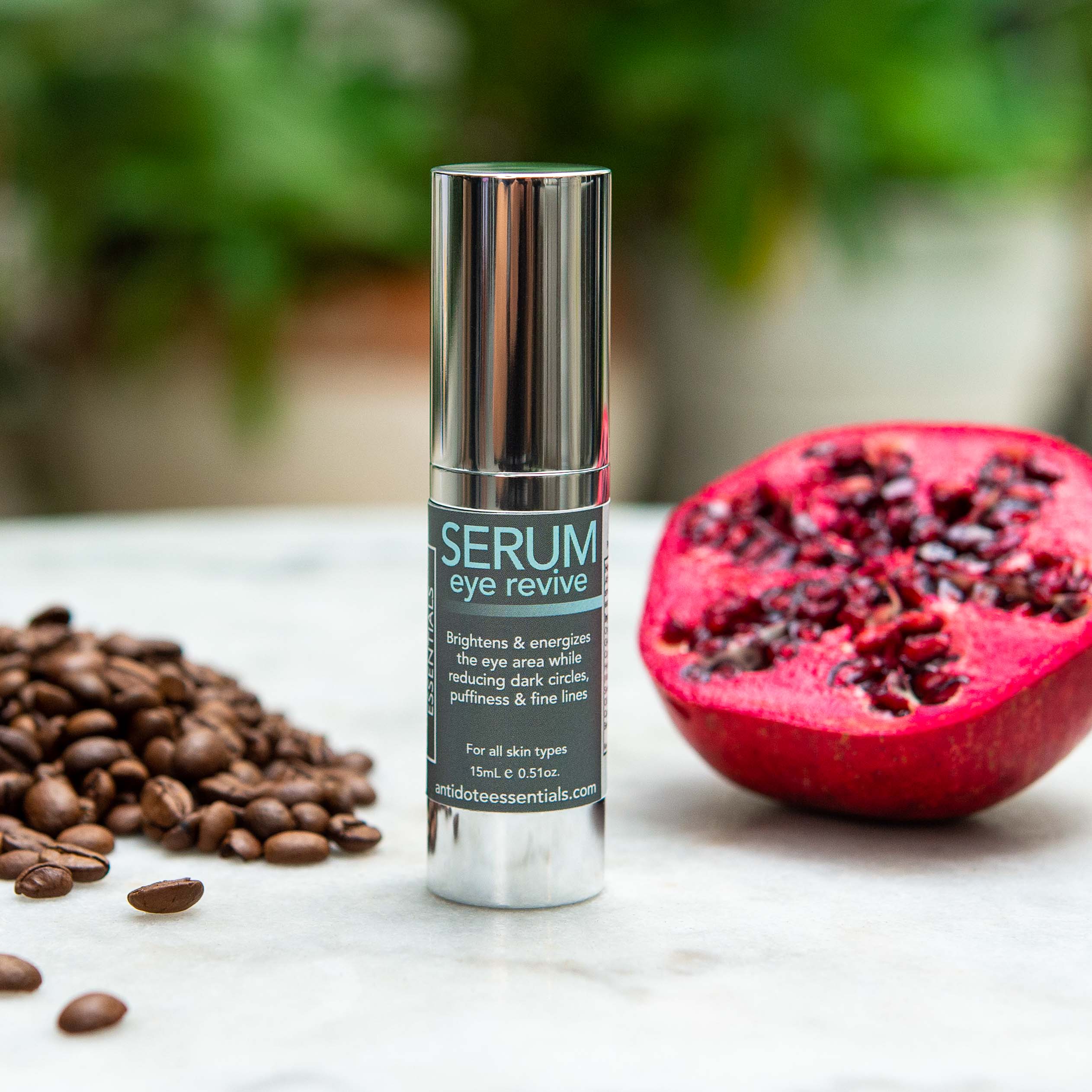 Give tired, puffy eyes an energising boost!
SERUM Eye Revive is a multitasking powerhouse to revive the eye area. With a potent concentration of copper, vitamins and natural seed oils, this brilliant blue gel:
Reduces fine lines

Hydrates

Reduces puffiness

Reduces dark circles

Brightens skin tone
Hero Ingredients:
Copper Gluconate - A skin regenerator, it restores collagen and elastin in the skin. 
Concentrated Vitamin C - A potent antioxidant that repairs and protects the skin from signs of ageing. Also works to brighten and even skin tone.
Natural Vitamin E - When coupled with Vitamin C, provides superior protection and repair.
Coffee Seed Oil - Rich in natural antioxidants and caffeine to stimulate the skin, reduce puffiness and dark circles
White Tea Extract - Stimulates and rejuvenates the skin, prevents oxidative damage.
Hyaluronic Acid - To plump, hydrate and firm the skin to reduce fine lines.
Pomegranate Seed - Rich in natural vitamins and polyphenols, it provides soothing and hydrating relief.
Seabuckthorn Oil - With essential fatty acids it's a potent anti-inflammatory.
How To Use:
SERUM Eye Revive is very concentrated, a little goes a long way so don't use too much! After cleansing and moisturising, apply a small amount (around half a pump) around each eye and gently rub around until completely absorbed.
What To Expect:
A light blue gel that spreads readily around the eyes. Provides an instant gloss and lift when absorbed. With ongoing use, it will assist to reduce fine lines, uneven skin tone and puffiness.
---
Free shipping on orders over $75
Ingredients
Ingredients - SERUM Eye Revive
Organic Aloe Vera Leaf Juice, Organic Vegetable Glycerine, Organic Argan Oil, Pomegranate Seed Oil, Copper Gluconate, D-alpha-Tocopherol (Vitamin E), Hyaluronic Acid Powder, Ascorbyl Tetraisopalmitate (Vitamin C), Niacinamide (Vitamin B3), Camellia Sinensis (White Tea) Leaf Extract , Seabuckthorn Seed Oil, Coffea Arabica Seed Oil, Rosemary Leaf Extract, Carrageenan Extract, French Lavender Essential Oil, Benzyl Alcohol, Salicylic Acid, Sorbic Acid
Shipping
Fast shipping
FREE Aus shipping on all orders over $75.
Orders under $75, $9 flat shipping.
Express & International shipping available.
All orders dispatched within 48 hours on business days
Order tracking
Once your order is dispatched, you will receive a confirmation email - including a Tracking Link to trace your parcel's progress.
Get in touch
If you have any queries about our products or your order, contact us via email - info@antidoteessentials.com or via the Chat Widget on our website
Returns & Refunds
Antidote Essentials Pty Ltd handles returns and processes refunds in accordance with the Australian Consumer Protection legislation.
Should you wish to return your order, please notify us within 14 days of purchase with a valid reason for return. If we are unable to resolve your complaint or further assist you, we will process a refund upon timely receipt of the goods purchased. Unopened goods will be refunded in full. Our shipping cost will be deducted from the refund. Refunds will be processed promptly and payment made by the same method that you made payment. All refunds are made at the discretion of Antidote Essentials Pty Ltd.
Excellent eye cream
I adore this eye cream and Im 50 but my 20year old used it also. I use in the morning it balances my delicate eyes, reduces puffiness and helps add excellent hydration. It has reduced dark circles, fine lines and puffiness Ive been using for 6m and its natural and does an excellent job!. Probably one of my fav products!
It'll do..... I guess
I bought this 3-4 months ago and have used it twice daily since receiving it. I've used the recommended amount per eye for BOTH eyes (a smidge of a pump on my ring finger, dispersed carefully onto both ring fingers for application, lightly dabbed onto my eye area), and it still feels way too much and sits on my eye area for some time after before finally absorbing in. I've continued using it because it's not going to potentially harm my eye area, but it's not feeling like it's living up to the promises. I'm still needing to conceal my under eye area to correct the dark circles. I haven't noticed improvement to fine lines. Final kicker is today when I can no longer get any out of my bottle, in spite of having over half a bottle left. It's currently sitting upside down in my bathroom in the hope that tonight I can get some up the pump again.
Amazing eye serum
Have been using this eye serum exclusively since my first purchase a few years ago.
Love the hydrated feeling with such a small amount required. Easy application and absorption.
Holy grail eye serum!
Best every eye treatment
This is a great product- just sinks into the delicate eye area without having to rub it in. Really perks you up, and smells lovely!
Amazing!!
This product truly is amazing within a week the change in my under eye area had improved so much. Could really tell the difference (wish I took photos to prove) totally recommend 100%