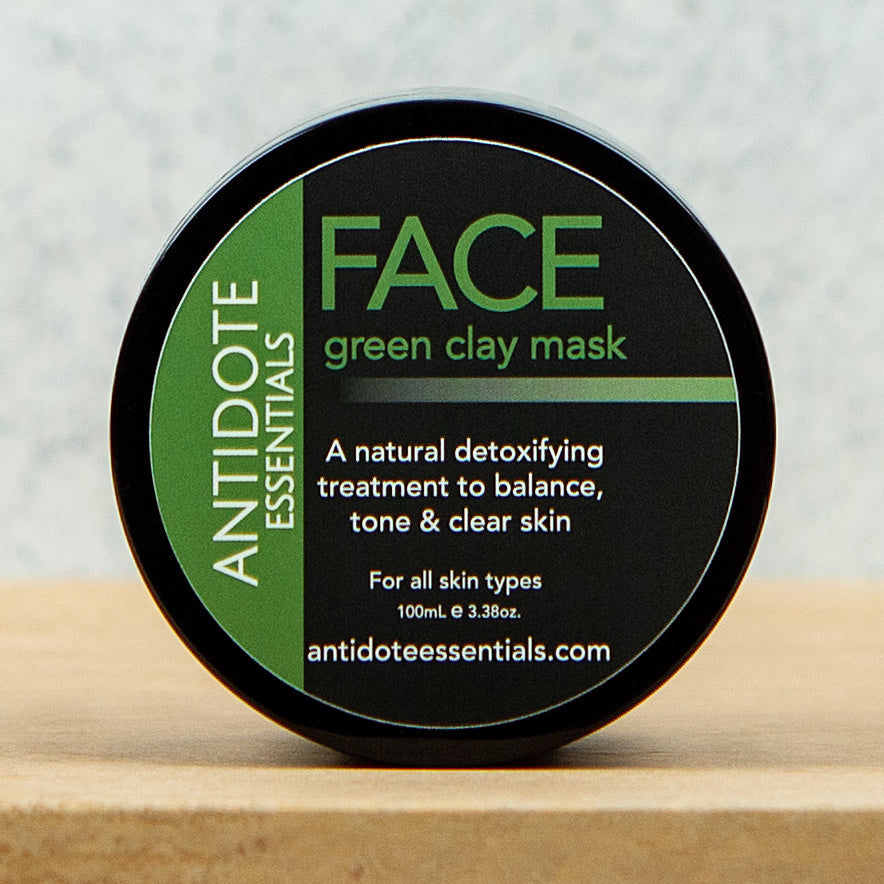 FACE Green Clay Mask Full Size (Special Offer)
$22.00
Regular price
$36.95
*Can only be purchased as part of the Ultimate Pack offer*
Enhance your skin routine with a deeply replenishing clay mask.
Our green clay contains a high concentration of naturally occurring minerals such as calcium, aluminium, magnesium, copper and zinc. Combined with a remedial blend of essential oils, apricot kernel oil and aloe vera, this mask is a powerful boost for all skin types.
As a powerful detoxifier, our FACE Green Clay Mask draws out impurities deep in the skin. It can be used to reduce the size of pores, treat oily skin and acne breakouts. The oils and aloe vera work to soothe the skin and provide a hydrating recovery to combat ageing and exposure from environmental toxins.
​100% vegan. Paraben-free, Sulphate-free, ethoxylate-free, silicone-free, artificial colour-free.
How to Use:
Apply an even layer of the Mask on dry skin spreading over the face and neck. Avoid the sensitive eye contour area. Leave on for 10 minutes and allow to dry. Remove by rinsing with warm water. Follow with our FACE Moisturiser or FACE Night Remedy and EYE Intensive Cream.
What to Expect:
Feels like a spa treatment you can do at home. The rich green/brown clay goes on moist and dries within a few minutes with a tightening effect on the skin. The peppermint, tea tree and ylang ylang essential oils provide a fresh fragrance and a tingling feeling as they assist to purify the skin. Aloe vera, botanicals and apricot seed oil gently nourish and mositurise.
---
Free shipping on orders over $75
FACE Green Clay Mask Full Size (Special Offer)
$22.00
Regular price
$36.95
Ingredients
Ingredients - FACE Green Clay Mask
Purified Water, Illite Clay, Kaolin Clay, Smectite Clay, Macadamia Oil, Aloe Barbadensis Cold Pressed Leaf Juice (Aloe Vera), Apricot Kernel Oil, Natural Vitamin E, Shea Butter, Vitis Vinifera Seed Extract (Grape Seed Extract), Peppermint Essential Oil, Cetyl Alcohol, Tee Tree Essential Oil, Ylang Ylang Essential Oil, Patchouli Essential Oil, Bergamot Essential Oil, Phenoxyethanol, Cucumber Fragrance, Pink Grapefruit Essential Oil, Frankincense Essential Oil,  Soya Bean Oil, Ethylhexylglycerin, Carbomer, Sodium Hydroxide, Allantoin, Glycerine, Grapefruit Seed Extract, Disodium EDTA, Sodium Hydroxy.
Shipping
Fast shipping
FREE Aus shipping on all orders over $75.
Orders under $75, $9 flat shipping.
Express & International shipping available.
All orders dispatched within 48 hours on business days
Order tracking
Once your order is dispatched, you will receive a confirmation email - including a Tracking Link to trace your parcel's progress.
Get in touch
If you have any queries about our products or your order, contact us via email - info@antidoteessentials.com or via the Chat Widget on our website
Returns & Refunds
Antidote Essentials Pty Ltd handles returns and processes refunds in accordance with the Australian Consumer Protection legislation.
Should you wish to return your order, please notify us within 14 days of purchase with a valid reason for return. If we are unable to resolve your complaint or further assist you, we will process a refund upon timely receipt of the goods purchased. Unopened goods will be refunded in full. Our shipping cost will be deducted from the refund. Refunds will be processed promptly and payment made by the same method that you made payment. All refunds are made at the discretion of Antidote Essentials Pty Ltd.