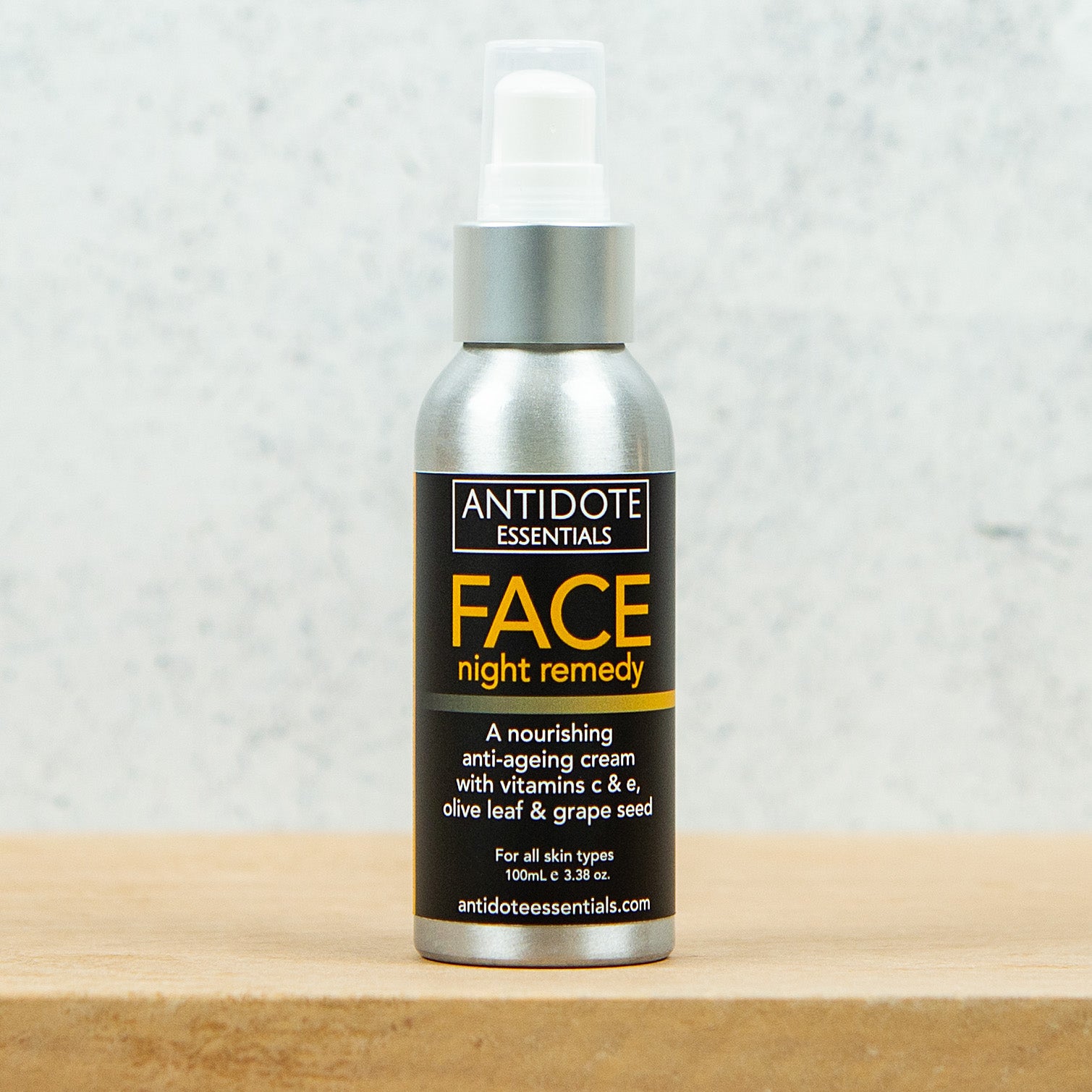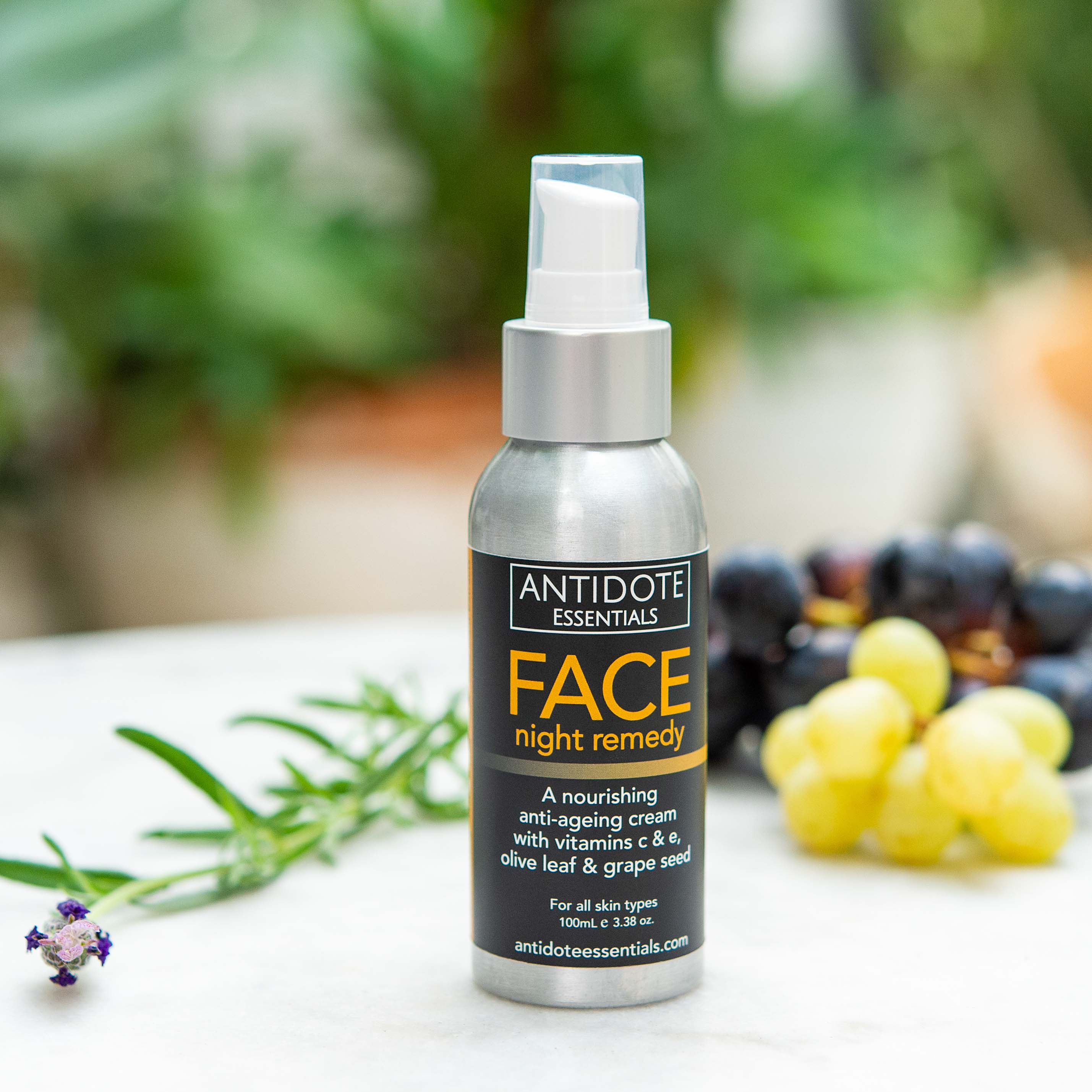 FACE Night Remedy (100mL)
Let our FACE Night Remedy do all the work while you sleep.
A rich cream bursting with vitamins, antioxidants and Australian botanicals to repair, nourish and fight ageing! 
High doses of Vitamin C and E provide a potent anti-ageing duo to repair and fight the signs of ageing. Coupled with a therapeutic blend of concentrated plant extracts to boost hydration, collagen production and support optimum skin health. 
Suitable for all skin types, though those with drier skin can use this moisturiser during that day.
100% naturally derived ingredients dedicated to hydrate and fight ageing. No oily residue. Won't clog pores.
Vegan. No nasty chemicals. No parabens. No artificial colours. No artificial fragrances.
Hero Ingredients:
Ascorbyl Tetraisopalmitate (Vitamin C) - a powerful antioxidant that promotes collagen production, brightens skin tone, reduces free radical damage and the signs of ageing. It absorbs fast to improve skin quality immediately.
Jojoba Oil - a gentle, readily absorbable oil naturally rich in Vitamins A, D and E. Helps to repair damaged skin cells and fight ageing.
Natural Vitamin E – a potent antioxidant that assists to strengthen the skin and prevent damage from environmental stressors.
Avocado Oil - an excellent natural moisturiser, it helps keeps the skin hydrated
Macadamia Oil - a lightweight oil that is well absorbed without feeling greasy. A great anti-inflammatory.
Olive Leaf Extract – a powerful anti-ageing AND anti-blemish ingredient! Bursting with antioxidants to heal and stimulate cell regrowth.
Grape Seed Extract – a potent antioxidant it helps to heal damage from free radicals and UV exposure.
How to Use:
Apply to your cleansed face at night. Follow with EYE Intensive Cream.
What to Expect:
A rich, latte-coloured cream that delivers an intense moisture and vitamin boost that works while you sleep. An inviting aroma of Australian botanicals, citrus and spice assists with relaxation.
---
Free shipping on orders over $75
FACE Night Remedy (100mL)
Ingredients
Ingredients - FACE Night Remedy
Purified Water, Vegetable Glycerine, Virgin Jojoba Oil, Aloe Barbadensis Cold Pressed Leaf Juice*, Cetearyl Olivate, Sorbitan Olivate, Cetearyl Alcohol, Natural Vitamin E, Rosehip Oil *, Phenoxyethanol, Avocado Oil, Macadamia Oil, Stearic Acid, Vitamin C Carbomer, Olea Europaea (Olive Leaf Extract), Vitis Vinifera Seed Extract (Grape Seed Extract), Lavender Australian Oil, Turmeric Essential Oil, Neroli Premium Oil, Bergamot Essential Oil, Sandalwood Australian Oil, Vetiver Essential Oil, Ylang Ylang Essential Oil, Agonis Fragrans Branch/Leaf Oil, Cypress Blue Australian Oil, Soya Bean Oil, Ethylhexylglycerin, Sodium Hydroxide, Lilly Pilly Extract, Kakadu Plum Extract, Citric Acid, Potassium Sorbate, Sodium Benzoate, Quandong Fruit Extract. 
*Denotes Organic Ingredients
Shipping
Fast shipping
FREE Aus shipping on all orders over $75.
Orders under $75, $9 flat shipping.
Express & International shipping available.
All orders dispatched within 48 hours on business days
Order tracking
Once your order is dispatched, you will receive a confirmation email - including a Tracking Link to trace your parcel's progress.
Get in touch
If you have any queries about our products or your order, contact us via email - info@antidoteessentials.com or via the Chat Widget on our website
Returns & Refunds
Antidote Essentials Pty Ltd handles returns and processes refunds in accordance with the Australian Consumer Protection legislation.
Should you wish to return your order, please notify us within 14 days of purchase with a valid reason for return. If we are unable to resolve your complaint or further assist you, we will process a refund upon timely receipt of the goods purchased. Unopened goods will be refunded in full. Our shipping cost will be deducted from the refund. Refunds will be processed promptly and payment made by the same method that you made payment. All refunds are made at the discretion of Antidote Essentials Pty Ltd.
Plastic Surgeon compliments my skin
After using the trial pack, I purchased the Serum Age Rescue, Face Night Remedy + Coffee Scrub. The products are just delicious! My skin feels wonderful, people don't believe me when I say I'm 60
At such a reasonable prices, I use my products on my face, neck, decolletage + back of hands. I had a lot of age spots + scars from having early skin cancers removed
Last year I had Skin Cancer + Skin Grafts on my face + chest. These were performed by a Plastic Surgeon. Aside from this I've never had any Plastic Surgery or Cosmetic Procedures.
At my 6 month review, the Surgeon was examining my skin under microscope. He asked what sort of skin care I used, if I'd had Botox or Plastic Surgery previously. He said my complexion was "incredible", especially the even skin tone. He also commented my wrinkles were not consistent with an "average 60 yr old". I was wishing I had photos of my face prior to using Antidote Essentials. I had patches of age spots on my outer cheeks + areas of visible, deep pores in some areas. The pigmentation, age spots + majority of pores are gone. My complexion is so much more even + refined.
Hi Margaret,
Just wanted to say a big thank you for this amazing review!
We are so happy that you are loving the products and even more so the glowing compliments from an expert!
It has absolutely made or day and is the reason we love what we do.
Thanks again,
P&M
This product does as it says
Excellent night remedy cream nourishing, gentle, incredibly smoothing and enriching. This i use about 5 nights a week it keeps my skin supple, soft and well loved over night. It applies easily and is non greasy. I feel great knowing im applying this night remedy to work on keeping my skin youthful while I sleep. This is a highly recommended night cream!
Love this!
Since using this night remedy product along with the anti ageing serum. My skin appears more smooth and soft. Although I have some hormonal acne this night remedy isn't too heavy and doesn't affect my acne
My one thing
At the end of my day, when I'm tired and have lost the will to walk another step, I scrub my face and apply this moisturiser... it's honestly the one best thing I look forward too....I actually get excited when i pump it into my hand knowing what is about to happen! The smell alone just brings pure joy. It's just happiness in a little bottle. Such happiness! 💗
Beautiful product
I love this night cream- smells beautiful and slides into the skin effortlessly. Lovely to know that it's doing all these good things while I sleep!