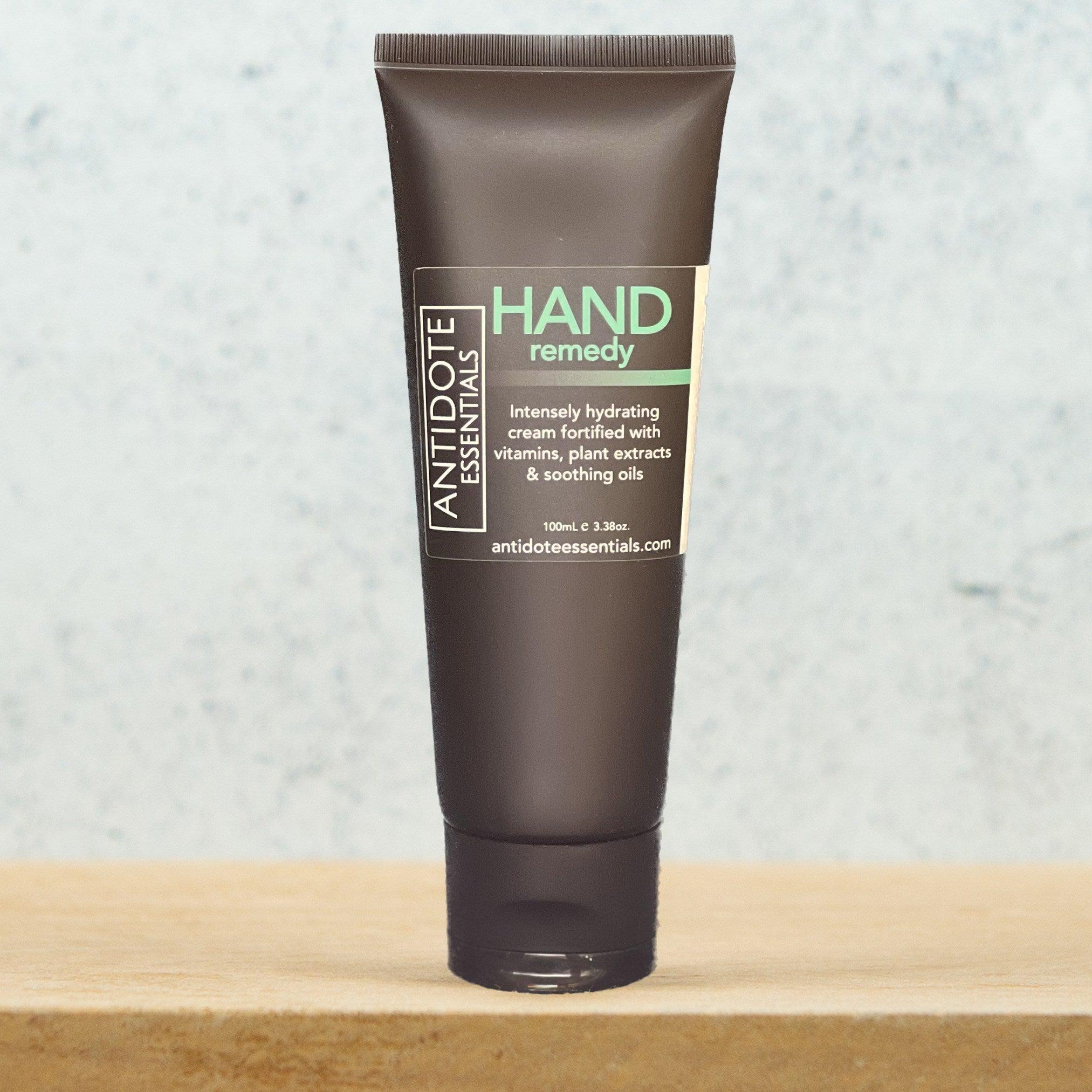 Because our hands need some extra TLC too!
A rich, soothing and fragrant cream that will moisturise and repair your overworked hands. Unlike most hand creams, HAND Remedy won't leave your hands feeling greasy.
Hero Ingredients:
Vitamin E - to treat and prevent dry and irritated skin.
Vitamin B5 - to moisturise and regenerate skin cells.
Shea Butter, Jojoba, Avocado, Macadamia and Sweet Almond Oils - to soothe, repair and retain moisture.
Allantoin - one of nature's most-potent healing extracts.
Olive Leaf Extract - rich in antioxidants to repair and protect .
Pure Lemon Myrtle, Bitter Orange and Cedarwood Oils - for a fresh citrus and spice fragrance.
100% naturally derived ingredients dedicated to hydrate and repair your hands.
Vegan. No parabens, no sulphates, no mineral oils, no lanolin, natural fragrances, pure plant extracts.
How to Use:
Apply a small amount to hands when required. Massage well until absorbed.
What to Expect:
A thick, luxe cream with an immediate and long lasting citrus and spice fragrance. Smoothes over skin and absorbs readily without leaving a greasy after-feel. Immediately soothes and relieves dry and irritated skin. With continued use, leaves hands feeling soft and supple.
*Packaging may differ from product picture*
---
Free shipping on orders over $75
Ingredients
Ingredients - HAND Remedy
Purified Water, Cetearyl Alcohol, Shea Butter, Glycerine, Ceteareth 20, Jojoba Oil, Natural Vitamin E, Avocado Oil, Cocoa Butter, Olive Leaf Extract, Sweet Almond Oil, Macadamia Oil, Phenoxyethanol, Grape Seed Oil, Vitamin B5, Rosalina Oil, Lemon Myrtle Oil, Orange Bitter Essential Oil, Ethylhexylglycerin, Allantoin, Mandarin Cold Pressed Oil, Petitgrain Essential Oil, Frankincense Essential Oil, Vetiver Essential Oil, Kakadu Plum Extract, Lilly Pilly Fruit Extract, Quandong Fruit Extract, Cedarwood Atlas Essential Oil
Shipping
Fast shipping
FREE Aus shipping on all orders over $75.
Orders under $75, $9 flat shipping.
Express & International shipping available.
All orders dispatched within 48 hours on business days
Order tracking
Once your order is dispatched, you will receive a confirmation email - including a Tracking Link to trace your parcel's progress.
Get in touch
If you have any queries about our products or your order, contact us via email - info@antidoteessentials.com or via the Chat Widget on our website
Returns & Refunds
Antidote Essentials Pty Ltd handles returns and processes refunds in accordance with the Australian Consumer Protection legislation.
Should you wish to return your order, please notify us within 14 days of purchase with a valid reason for return. If we are unable to resolve your complaint or further assist you, we will process a refund upon timely receipt of the goods purchased. Unopened goods will be refunded in full. Our shipping cost will be deducted from the refund. Refunds will be processed promptly and payment made by the same method that you made payment. All refunds are made at the discretion of Antidote Essentials Pty Ltd.
Hand remedy cream
This hand cream is another awesome product, hands feel nice and soft after applying. Has been great for my teenage daughter who suffers from eczema on her fingers.
Helped my Eczema
Has been great for my eczema and dryness on my hands, I also will use on breakout patches on my body. I've found this really useful as sanitiser dries out my hands terribly, so this has been a lifesaver to have on me!
I have dermatitis on my hands and I have to be careful what products I use. This hand cream is soothing and moisturising, and I can use confidently knowing it will not aggreviate my skin.
Love the smell
I love this product, makes my hand feel so soft and it smells wonderful.