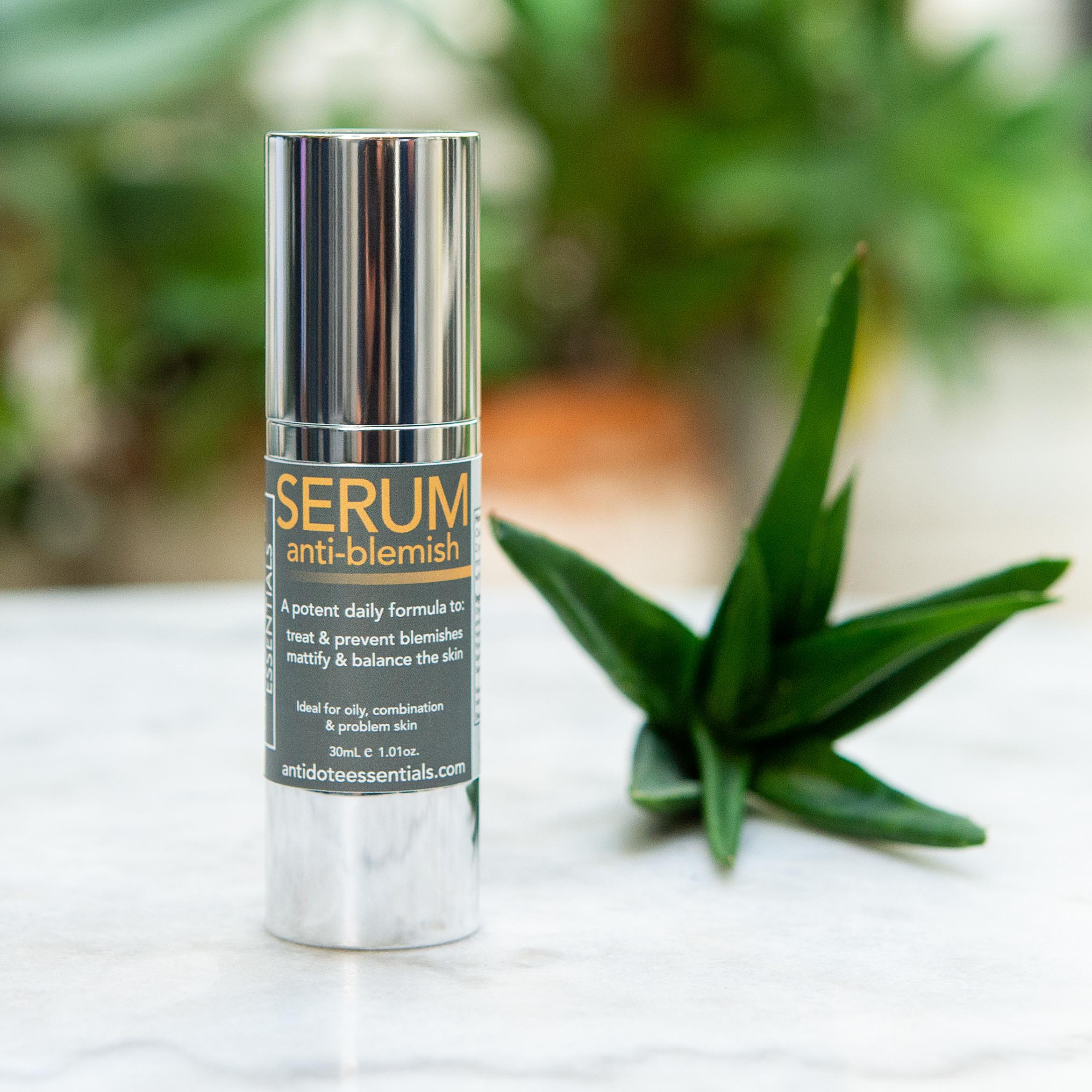 SERUM Anti-Blemish (30mL)
One serum for clear and oil-free skin every day.
Help treat and prevent breakouts without harsh acids or drying alcohols that can damage the skin. The potent combination of Vitamin B3 (niacinamide) and pure Australian clay works to mattify, control oil production and keep your skin oil-free all day. A clear, lightweight gel that absorbs fast.
Quickly reduces redness, inflammation and improves complexion. With daily use will help balance the skin and prevent breakouts. Vitamin B3 in the serum may also reduce symptoms of rosacea.
Can also be used as a topical treatment when breakouts are present.
Suitable for teenagers or those with acne-prone or oily skin.
Hero Ingredients:

Niacinamide (Vitamin B3) – an effective blemish-fighting vitamin that clears pores, prevents congestion and improves your complexion. For more information on the skin care benefits of Niacinamide, check out this article here.
White Tea Extract – full of natural antioxidants it repairs, soothes and protects the skin
Zeolite Clay – a potent detoxifier, it draws out impurities in the skin. Reduces excess oil and mattifies the skin
Witch Hazel – a natural toner, astringent and anti-inflammatory
Portulaca Extract – a gentle plant extract to heal the skin
How to use:
After cleansing, apply 1-2 pumps to your face and neck. Follow with FACE Moisturiser and SERUM Eye Revive.
Use daily – and at night if blemishes are present.
---
Free shipping on orders over $75
SERUM Anti-Blemish (30mL)
Shipping
Ingredients - SERUM Anti-Blemish
Organic Aloe Vera Juice, Organic Vegetable Glycerine, Niacinamide (Vitamin B3), Camellia Sinensis (White Tea) Leaf Extract, Hamamelis Virginiana Bark (Witch Hazel) Extract, Purified Water, Portulaca Oleracea Extract, Zeolite Clay, Carrageenan Extract, Xanthan Gum, Benzyl Alcohol, Salicylic Acid, Sorbic Acid, Clary Sage Essential Oil.
Ingredients
Fast shipping
FREE Aus shipping on all orders over $75.
Orders under $75, $9 flat shipping.
Express & International shipping available.
All orders dispatched within 48 hours on business days
Order tracking
Once your order is dispatched, you will receive a confirmation email - including a Tracking Link to trace your parcel's progress.
Get in touch
If you have any queries about our products or your order, contact us via email - info@antidoteessentials.com or via the Chat Widget on our website
Returns & Refunds
Antidote Essentials Pty Ltd handles returns and processes refunds in accordance with the Australian Consumer Protection legislation.
Should you wish to return your order, please notify us within 14 days of purchase with a valid reason for return. If we are unable to resolve your complaint or further assist you, we will process a refund upon timely receipt of the goods purchased. Unopened goods will be refunded in full. Our shipping cost will be deducted from the refund. Refunds will be processed promptly and payment made by the same method that you made payment. All refunds are made at the discretion of Antidote Essentials Pty Ltd.
100 stars!
So ever since having to wear a mask 8 hours a day 5 days a week (for work) that Area on my face started to naturally break out in pimples (like many people I assume!!!) I never get pimples except a few during hormonal changes. So I started using the anti blemish more at the moment on that area and i cannot believe how quickly the redness has subsided and they have disappeared in a few days. I wish I took before and after pictures!!!
This product was a game changer for me! The results are literally overnight. When I start to see a breakout, I apply this and by the next morning it's gone or so diminished I can carry on with my life without worry. Anti Blemish won't disappoint !! :)
A-M-A-Z-I-N-G-!!!
Wow. I never realised a serum could help my skin out so much or so quickly. The improvement in my skin after just a few uses is so noticeable. Just love this product. I will be ordering more!
Found a solution!
This helps control my eczema breakouts massively! I used to get awful eczema all across my face and neck to the point it would weep. When I can feel a flare up coming on I have been using this and they have been avoided! Game changer!
A must for anyone with any pimples
I can't recommend this product enough for breakouts. My skin is literally glowing and 0 pimples. I haven't had skin this clear for 20 years. Completely in love with this serum. Its so light and no gross residue.