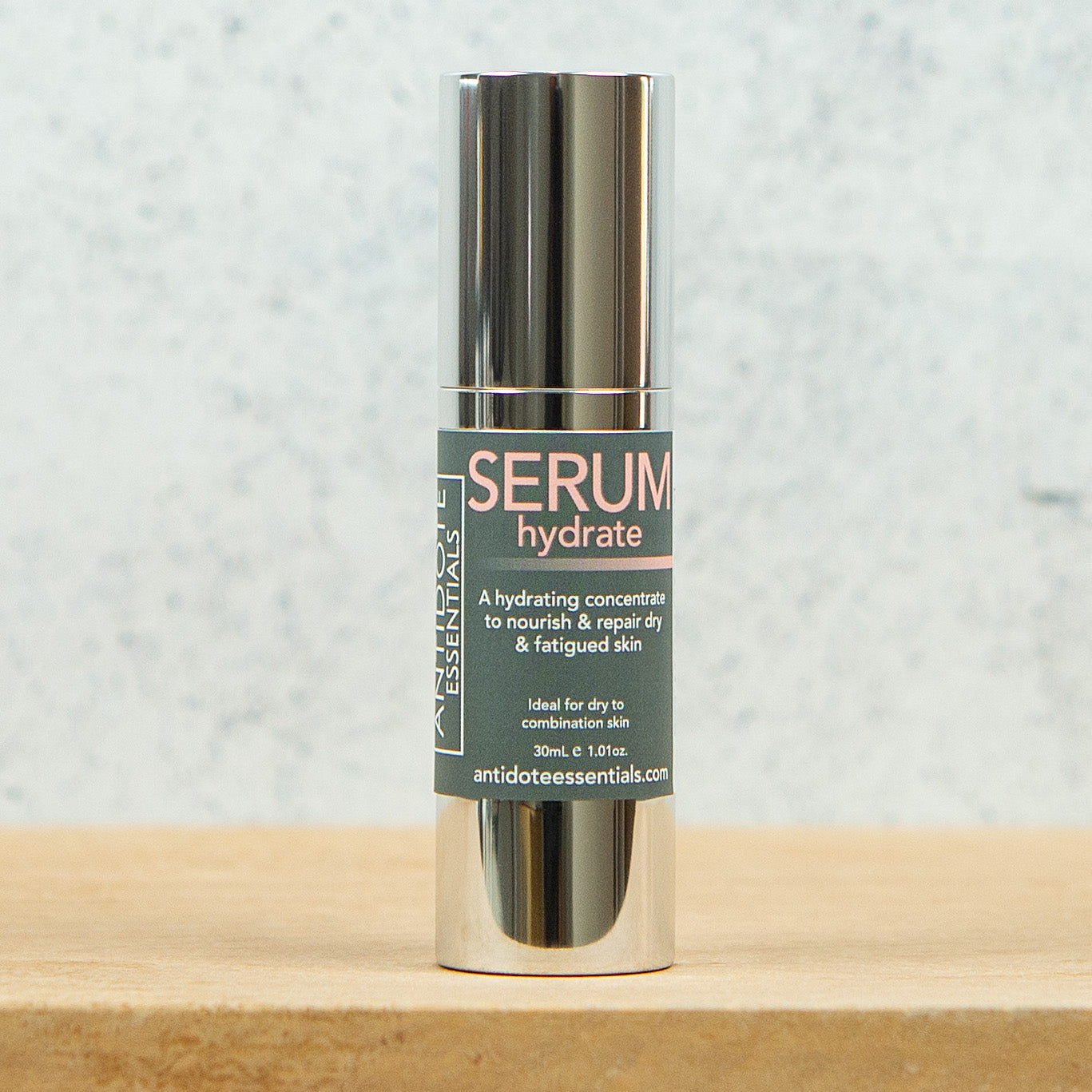 Dry, damaged skin? Does your skin need some extra moisture? Cold, dry weather got your skin thirstier than usual? Meet SERUM Hydrate. An intensive shot of moisture without the greasiness. 
Lightweight but potent, SERUM Hydrate restores skin's lost moisture while improving elasticity, fine lines and overall complexion - making it a key part of your anti-ageing arsenal. With continued use it can help replenish skin's natural moisture levels. Absorbs instantly and is a perfect accompaniment to your favourite moisturiser.
Hero Ingredients:
Beta Glucan – super-nourishing, it helps to support the skin's natural barrier and lock-in moisture.
Retinyl Palmitate (Vitamin A) – a potent antioxidant and anti-ageing vitamin that also encourages new skin cell growth and increases elasticity.
Soya Aminos – assists to bind water on to dry areas of the skin needing hydration. Also improves collagen production.
Hyaluronic Acid – draws moisture in to the skin to plump and hydrate.
Chia Seed Oil – a lightweight but nourishing oil that delivers omega fatty acids deep in to the skin.
Prickly Pear Extract – a natural source of Vitamin E to repair dry and damaged skin.
Vitamin B3 – balances oil production while helping to retain skin's moisture levels.
Vitamin B5 – moisturises and promotes healthy skin.
How to use:
After cleansing, apply 1-2 pumps to your dry face and neck. Can be used around the eye area. Allow to absorb and follow with your choice of FACE Night Remedy or FACE Moisturiser and Eye treatment. Can be used night and day. Recommend to use at night with Serum Age Rescue at day.
---
Free shipping on orders over $75
Ingredients
Ingredients - SERUM Hydrate
Purified Water, Organic Aloe Vera Juice, Organic Sweet Almond Oil, Vegetable Glycerine, Soya Amino Acid, Propanediol (Palm Free), Niacinamide (Vitamin B3), d-Panthenol (Vitamin B5), Beta Glucan, Sodium PCA, Salvia Hispanica (Chia) Seed Oil, Opuntia Ficus-Indica (Prickly Pear) Seed Oil, Sodium-L-Lactate, Hyaluronic Acid, Licorice Root Extract, Retinyl Palmitate (Vitamin A), Vegetable Squalane, Benzyl Alcohol, Carrageenan Extract, Rosemary Leaf Extract, Salicylic Acid, Sorbic Acid.
Shipping
Fast shipping
FREE Aus shipping on all orders over $75.
Orders under $75, $9 flat shipping.
Express & International shipping available.
All orders dispatched within 48 hours on business days
Order tracking
Once your order is dispatched, you will receive a confirmation email - including a Tracking Link to trace your parcel's progress.
Get in touch
If you have any queries about our products or your order, contact us via email - info@antidoteessentials.com or via the Chat Widget on our website
Returns & Refunds
Antidote Essentials Pty Ltd handles returns and processes refunds in accordance with the Australian Consumer Protection legislation.
Should you wish to return your order, please notify us within 14 days of purchase with a valid reason for return. If we are unable to resolve your complaint or further assist you, we will process a refund upon timely receipt of the goods purchased. Unopened goods will be refunded in full. Our shipping cost will be deducted from the refund. Refunds will be processed promptly and payment made by the same method that you made payment. All refunds are made at the discretion of Antidote Essentials Pty Ltd.
It works!
I received my 3rd bottle today! Its an amazing product, it really works for my skin. My skin became really dry since i moved here in Australia, been searching for the "one" that will help my dry skin and that's what really proved A.E to my skin! & i thank you for that! Keep going guys, thank you!
I'm Converted!
I was always sceptical that people with oily or combination skin needed to use hydrating products. After getting this serum in my trial pack, I've been using it at night along with the night moisturiser and my skin is getting so much more manageable! My oiliness is getting under control and my skin is definitely getting a glow about it. On the nights that I have forgotten to put it on before getting out of bed, I get up to do it now ... it makes such a difference.
Perfect for winter
Another amazing product!! My skin is very dry & this leaves it feeling super soft and hydrated. A little goes along way. You won't be disappointed.
Fantastic product!
This does exactly what it says it does. My skin is looking the best it's ever looked - will be buying more of this one!
Lifesaver!
I've been seeing a dermatologist for some skin cancer issues and I had a persistent and nasty residual dry patch over my nose and under my cheeks. I thought I'd revisit the serum hydrate to see if it would help - wow what a difference it made. After a week of use the dryness and peeling have completely disappeared! Couldn't be happier.